Your step by step guide with easy to follow instructions for navigating Drupal 8.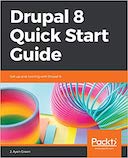 Available from Amazon and Packt.
Drupal is a powerful content management platform, flexible enough to accommodate almost any content requirements. This flexibility comes with a cost: complexity. Drupal 8 Quick Start Guide will clear your path from installation to a building usable site in minutes, and to a customized site in one sitting.
Create and customize Drupal structures, such as menus, tags, and content categories
Extend Drupal's capabilities with add-on modules
Administer site users, their roles, and the actions to which they are granted access
Understand user roles and permissions
Create, edit, and publish content
Use Views for custom content selection and display
Expand your audience with custom RSS feeds
Configure a home page with meaningful sections for a better UX